Description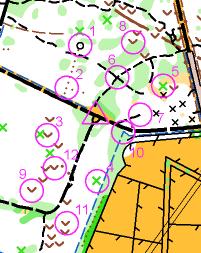 This is a variant of the "Snatch the bacon" game.
Let's say you have 12 players. Make 6 teams of two. In each team you have one player A and one player B.
Print a very large scale map (1000th) with 12 controls.
At each control, you put between 1 and 6 cones of the same colour. Be careful to put different coloured markers on the controls that are closed to each other.
The maps are placed 5 meters in front of the teams, which are  inline.
You call out a player (A or B), a number written on the map (from 1 to 12) and you specify the colour of the cone (if you don't want them all to bring you the wrong cone).
The players go near the maps to memorise the location of the control you have just announced. They don't know if there is 1 or 2 or 6 cones placed at that point. They will soon all run, not necessarily in the right direction ;).
When the players get to the cones, they take one and go back to the start. First come, first served, until all the cones are taken. Unlike the real game of beret, only the "snatching the bacon" is important, to add value to map reading.
Then you then call the other players, another number (and therefore another colour of cones).
Once the 12 numbers have been called, each team counts the number of cones they had. The team with the greatest number of cones wins.
Alternative
You can replace the cones with cards numbered from 1 to 12. Then the players can check that they are at the right place.  
You can put chocolate for easter time.
You can make the controls more complicated to find, depending on the players you have.
Comment
Remember to note the correspondence between the colour of the cones and the numbers on the map before playing.
This variant of the "Snatch teh bacon" game is very dynamic and is pleasing all, young and old, beginner and experienced runners.
It also ensures that no one is in complete failure. No player will have 0 points at the end.
Be careful, with experienced adults, to give the rules of safe behaviour : shoulder strokes to destabilise the competitor when approaching the cone are forbidden for example!
Contributor
Nathalie Rauturier